I had my first North trip on motorbike SUZUKI GS-150 SE from Lahore to Skardu Valley in fall season of 2020. In order to keep every thing precise and short, mentioning the Tour Highlights first:
TRIP HIGHLIGHTS:
Dates: 30 Sep 2020 to 13-Oct-2020
Total Days = 14
Total Kilometer traveled = 2500 km
Total Expense = 21,980 Rs

Bus Lahore to Mansehra = (Self 1200 Rs + Bike 1700 Rs) = 2900 Rs
Fuel + Oil =  7330 Rs
Accommodation = 5100 Rs
Food = 3610 Rs
Miscellaneous = 3040 Rs
ROUTE AND PLACES EXPLORED
Route followed from Lahore > Babusar > Allah Wali Lake > Astore > Deosai > Skardu is here on Google Maps
Route followed from Skardu city > Manthoka > Khaplu > Shigar > Kachura lake and return via Skardu-Gilgit Road is here on Google Maps
ACCOMMODATION BREAKUP:
1st Night: In a mosque at Danna Meadows = Free
2nd Night: At Roomy Mountain Top resort – Battakundi = Free (complimentary)
3rd Night: Camping at At Raikot = Free initially, but later the owner insisted to pay 500 Rs at night
4th Night: Kamran Hotel Astore = 1000 Rs (500 Rs per head)
5th Night: Royal Gashu resort at Chillam Das = 1500 Rs (750 Rs per head)
6th Night: Hilton Hotel Skardu = 1000 Rs (500 Rs per head)
7th Night: Hilton Hotel Skardu (700 Rs) + Madina Hotel Khaplu (500 Rs) because my luggage was in Skardu and i could not come back from Khaplu to Skardu that night.
8th Night: Hilton Hotel Skardu = 700 Rs
9th Night: Hilton Hotel Skardu = 700 Rs
10th Night: Naran Hotel = 500 Rs
11th Night: At relatives in Islamabad = Free
12th Night: At relatives in Islamabad = Free
Total Expense of Accommodation = 5100 Rs
FUEL AVAILABILITY AND LOCATIONS DURING THE JOURNEY
There is no issue of fuel availability on Lahore to Skardu route map. It is not abundantly available but you will definitely get petrol pumps after half of your tank will be consumed. so always remember three things about fuel:
Keep atleast 2 liter fuel in a bottle with you for emergency purpose
Always consult people before going on any route about refueling pump locations
Always keep your tank full wherever you find a fuel pump (even after few kilo meters of driving)
Below are details of Fuel pump location and how much expense was occurred during my trip
1st Fueling at Mansehra Bus terminal (1st Oct): 1680 Rs Bike tank filled full +  2 litre filled in extra bottle to keep for emergency purpose
2nd Fueling at Naran Bypass Road (2nd Oct): 400 Rs tank filled full (3.7 lit added @109.10 Rs/liter)
3rd Fueling at Chilas Zero Point (3rd Oct): 260 Rs tank filled full (2.5 lit)
4th Fueling at Astore valley entrance (4th Oct): 500 Rs tank filled full  (4.76 lit)
5th Fueling at Asore valley (5th Oct): 120 Rs filled full
NOTE: There is no fuel option from Chillam to Deosai upto Skardu city
6th Fueling at Skardu (7th Oct): 690 Rs filled full (6.6 lit)
NOTE: From Skardu to Khaplu there is only one fuel station at GHAWARI
7th Fueling at Ghawari (8th Oct): 210 Rs (2.1lit)
8th Fueling at Skardu (9th Oct): 450 Rs (4.3lit)
9th Fueling at Jaglot (10th Oct): 410 Rs (3.95lit)
10th Fueling at Balakot (11th Oct): 700 Rs
11th Fueling at Rawalpindi (11th Oct): 410 Rs (3.93 lit)
12th Fueling at Lahore (13th Oct): 750 Rs  (7.2lit)
13th Oil Change after arrival in Lahore: 750 Rs
Total Expense of Fuel = 7330 Rs
MOBILE SIGNALS AND INTERNET
From Lahore to Babusar your owned mobile sims of Telenor, Jazz and Ufone will work fine however after you enter Gilgit Baltistan region at Babusar Top you need to have SCOM network sim which gives good 4G internet speed wherever their tower exist.
You would not find any signals while crossing Deosai plains or any other remote places.
It is better to buy SCOM sim before leaving on your trip and you can buy from Lahore from below contact:
KASHMIR PCO BY RIZWAN: 0355-7115003 , Google location Here
PREPARATIONS OF TOUR
Although i have traveled a lot on motorbike within the country and Internationally but in almost all the trips I had returned to home at night. But this trip was very long and in remote mountains area where there is no support of mechanic so i had to prepare myself very carefully.
For this i developed a detail checklist to prepare myself. You can also take help from this: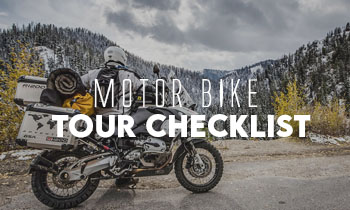 THANKS TO THE BRANDS WHO SPONSORED MY TRIP:
WALIMALL.PK: For Rider Jacket, Gloves, Camping Stove and Pans
(You will definitely get special discount from WaliMall if you mention reference of Being A Traveler)
DOMINANCE.PK: For Tent, Sleeping bag and hiking stick (5% DOSCOUNT CODE: BBT05)
AD-GEARS: For high quality air inflated Sleeping mat
ROOMY.PK: For a Luxurious night stay at Mountain Top Resort Batakundi
FANSTORE.PK : For Travel theme T-shirts and Sweatshirts
WHATS IN MY BACKPACK?
You can also check all my Gears and Gadgets used for Trekking, Camping and Vlogging in below link
DAY WISE JOURNEY DETAILS
DAY-00: 30-SEP-2020 | LEFT FROM LAHORE 
– 2130 hrs Left from home
– 2200 hrs Reached Lorry adda Lahore
– Removed saddle boxes, battery and side mirrors and emptied the petrol tank
– Shifted my Bike in Trunk of bus (Geo Madina Bus – Lahore to Mansehra 03014160600)
– 1200 Rs bus Ticket Lahore to Mansehra
– 1500 Rs bike rent
– 200 Rs Shifting fees of bike in Bus trunk
– 60 Rs coke
– 2330 hrs bus left on right time. The bus was luxury YUTONG made and had good seats and good leg space
DAY-01: 1-OCT-2020 | MANSEHRA > BALAKOT > DANNA MEADOWS
– 0600hrs The bus reached at Mansehra terminal and i brought all my things battery, Saddle boxes and bags at one side for Installation.
– 1680 Rs Filled petrol in tank from Fuel station just opposite to Bus terminal and also 2 filled litre petrol in can for emergency purpose.
– 0730 hrs finally assembled bike and left from Mansehra
– Had several stops along the way as i was enjoying the view and ride along with drone footages
– 1000 hrs crossed Balakot city
– 50 Rs  Chapal kabab near Kiwai
– 1400 hrs reached KHANIAN and covered 4km steep road upward on bike then park my Bike and held my 2nd bag at army checkpost
– 1500hrs started trekking towards DANNA MEADOWS
– Trekking was very tough. Met Ch Mahmood on the way who suggested to stay in a Mosque at Medaan village. A kid named. Khizar, took my bag and helped me reaching at Medaan village
– 1715hrs reached Medaan village and planned to stay night there in Mosque
(There are no mobile signals at Medaan Village and Danna Meadows)
– 55 Rs bought some snacks
– 2000 hrs Had roti and saag with tea served by locals in the mosque and then slept after Isha
DAY-02: 2-OCT-2020 | DANNA MEADOWS > NARAN > BATTA KUNDI
– 0420 hrs wokeup with alarm
– 0630 hrs Molvi sahab gave me Paratha and tea in breakfast
– 0730hrs left from MEDAAN to DANNA MEADOWS with Waqar shaukat (waqar contact # 03418233402)
– 0815 hrs reached DANNA MEADOWS. At the top there is one Rest house which remains open during summer season but it was closed due to start of winters when I visited that day. Also their are lot of local houses in surrounding areas at top but they were also shifted in lower region of mountains because of extreme cold during night at the Top.
– 1000 hrs Left from DANNA and reached back to MEDAAN at 1115 hrs. Took my luggage from the mosque and left from MEDAAN at 1130hrs downhill trekking towards checkpost where my bike was parked at BHOORI
– 1300 hrs reached at Bhoori at Bike location and took my 2nd bag from army checkpost (which I submitted them 1 days before). Again tied everything on bike.
– 1440 hrs left from Bhoori Army Checkpost and Reached KHANIAN on main Naran Highway
– 1500 hrs reached Kaghan Bazar and had lunch of Chapal Kabab
– 1535 hrs left from Kaghan
– 1700 hrs reached Naran Valley
– 400 Rs petrol filled at Naran Bypass road
– 1715 hrs left from Naran Valley
– 1845 hrs reached Batta Kundi and stayed night at "Mountain Top Resort" sponsored by ROOMY.PK 
Since it was a complimentary stay with ROOMY so i did not pay any thing however below are the accommodation and meals cost of ROOMY at Batta Kundi.
Location on MAP is here
Roomy rates and properties in North Pakistan
Roomy restaurant Menu
DAY-03: 3-OCT-2020 | BATTA KUNDI > BABUSAR > CHILLAS > RAIKOT
– 0430 hrs woke up and packed our bags
– 0700 hrs Had breakfast at ROOMY restaurant
– 0800 hrs Left from ROOMY Mountain Top Resort – BATTA KUNDI
– 0845 Crossed Jalkhad
– 0852 Entered gate of "Lulusar-Dodipatsar National park gate
– 0900 hrs Crossed Besar Moon restaurant (which is also starting point of Dodipatsar Lake trekking)
– 0910 hrs reached Lulu sar lake and made coffee at Lake
– 1035 hrs left from Lulusar lake
– 1145 hrs reached Babusar top and had crispy Pakoray and Hot Coffee
– 1230 hrs left from Babusar
– 1430 hrs reached Chillas Zero Point and had Biryani
– 1515 hrs left from Chillas
– 1540 hrs Filled petrol at Chillas
– 1645 hrs Stopped at GONAR FARM at and purchased SCOM mobile sims because other sims of Telenor, Jazz, Ufone do not work in Gilgit and Kashmir
– 1745hrs reached RAIKOT BRIDGE and stayed a night in our tent in the lawn of a Hotel because Rooms were expensive (2500 ~ 3500 Rs per night)
– RAIKOT is the starting point of FAIRY MEADOWS jeep track but it was not in our plan this time. I will explore Fairy Meadows next time.
NOTE: There are only 2 or 3 hotel options at Raikot. Shangrila Hotel is expensive and high end accommodation. However other hotels nearby has 2500 ~ 3500 Rs per nite
DAY-04: 4-OCT-2020 | RAIKOT > ALLAH WALI LAKE > ASTORE
– 0430 hrs wokeup, washed my clothes and then had breakfast of self cooked noodles on my camping stove
– 0745 hrs hrs Left from Raikot Sari Hotel (Contact # 05811-484807)
– Raikot bridge is the point from where the beautiful, carpeted and scenic Karakoram Highway (KKH) starts
– After driving almost 30min the diversion of Astore Valley comes at your right hand. Astore is 44km from this point of Karakoram Highway (KKH)
– 1100 hrs reached ASTORE checkpost
– On the checkpost, the guard suggested us to visit ALLAH WALI LAKE first and then come to Astore in the evening and hence we took a U-turn and went on that road.
The road to Allah-Wali-Lake was under construction and had very rough and tough patches where our bikes were stucked many times and locals helped us to cross those steep and scary points
– 1300 hrs Reached ALLAH WALI LAKE and enjoyed the moments with coffee while sitting at the edge of a rock
– 1430 hrs left from ALLAH WALI LAKE
– 1610 hrs reached back Astore checkpost
– 1620 hrs reached Astore city
– Filled petrol at Astore
– 1000 Rs booked Kamran Hotel for one night (located at Rama Road)
– 1900 hrs Dinner at local hotel in Astore Bazar and slept at 2100 hrs
DAY-05: 5-OCT-2020 | ASTORE > RAMA MEADOWS LAKE > CHILAM DAS
– 0430 hrs wokeup and we had breakfast of noodles in our room as .
– The owner of the hotel installed a lock on the gate and went outside and gate was locked so our 2 hours got wasted in waiting.
– 0820 hrs left from Astore towards Rama Meadows
– The road condition upto Rama Meadows is good with few bad patches only
– 1015 hrs reached Rama meadows and had a Tea-break there
– The road further from Rama Meadows to Rama lake was quiet difficult, steep, narrow and full of stones
– 1045 hrs reached Rama lake
– 1140 hrs left from Rama lake
– 1240 hrs reached back Astore Kamran Hotel and had Biryani in Lunch
– 1435 hrs Checked out and left from Astore hotel
– 1445 hrs Filled petrol at Astore
– While going towards Chillam Das, we had a mouth watering mutton shorba whose taste was out of this world and highly recommended to give a try.
Hotel Name:  "Chashma Hotel"
Hotel location on Google Map: AYEGAH
– 1820 hrs reached CHILAM and took hotel at 1500rs per nite
(Hotel Name: ROYAL GASHO RESORT, Owner: Yawar, Contact: 03555084625, 03554478979, 03555098974)
– 1900 hrs had a cup of tea at hotel
– 2200 hrs Slept
DAY-06: 6-OCT-2020 | CHILLAM CHOWKI > DEAOSAI PLAINS > SKARDU
– 0430 Hrs wokeup and had breakfast of Paratha Omelet at Royal Gasho hotel at Chilam Das.
– It was extreme cold temperature at Chilas in the morning
– 0730 hrs left from Chilam Das and after 5 min drive you reach at Entrance checkpost of DEOSAI PLAINS
– 100 Rs Deosai National park entry ticket
– 0830 hrs reached SHEOSAR LAKE
– 0945 hrs reached KALA PANI (Black Water)
– 50rs had Tea at Kala pani
– 1045 hrs reached BARA PANI
– 1145 hrs CHHOTA PANI (Shatung bridge)
– 1215 hrs reached end of Deosai National park and had snacks break for 15min
– 1330 hrs reached SADPARA LAKE checkpost
– 1430 hrs reached SKARDU VALLEY
– 1500 hrs had Biryani in Lunch
– Selected Hilton International hotel (A backpacker type budget hotel) at Hussaini chowk in 1000 Rs per nite (for 2 persons)
– Contact number of HILTON hotel: 03401557574, 058-15455581, 03475383628 or 03555288937
– 1700 hrs started Hiking to KHARPOCHO FORT and reached at the top at 1730hrs
– 70 Rs entry ticket of Kharpocho fort
– 1830 hrs came back to Hotel
DAY-07: 7-OCT-2020 | SKARDU > MANTHOKA WATERFALL > KHAPLU
– 0430 Hrs wokeup
– 0745 hrs had breakfast Paratha, egg and tea
– 0900 hrs left from Hilton hotel Skardu
– 1230 hrs reached Manthoka waterfall
– 1330 hrs left from Manthoka waterfall
– 1430 reached bridge intersection of Manthoka n Khaplu road
– 690 Rs petrol filled at 1530 hrs (at Ghawari)
– 1700 hrs reached KHAPLU
– 1730 hrs visited Khaplu fort
– 500 Rs/nite night stay in Almadina hotel and restaurant in Khaplu Bazar
– 180 Rs biriyani at Almadina hotel
– 1900 hrs slept
ROUTE MAP:

DAY-08: 8-OCT-2020 | KHAPLU > SARFARANGA COLD DESERT > SHIGAR VALLEY
– 0430 Hrs wokeup
– 0630 to 0715 time wasted in setting saddle boxes of bike
– 0715 hrs left from KHAPLU and forgot to visit ancient Chinqchan Mosque
– 0900 hrs reached Ghawari, filled petrol and had breakfast
– 210 Rs petrol at ghawari 2.1liter
– 90 Rs breakfast paratha egg and tea
– 0930 hrs left from GHAWARI
– 1100 hrs reached intersection point of SHIGAR VALLEY road
– 1330 hrs left from Shigar
– 1350 hrs took BLIND LAKE TRACK
– 1420 hrs reached blind lake
– 1455 hrs left from Blind Lake
– 1530 hrs reached Sarfaranga desert entrance point
– 1600 hrs on shiger road
– 110 icecream near agha hadi chowk
– Remained stuck in Imam Hussain (R.A) chehlum jaloos till 7.30pm then Traffic warden helped me to drop at my hotel
DAY-09: 9-OCT-2020 | SKARDU > SHANGRILA RESORT > KACHURA LAKE > SOQ VALLEY
– 0630 hrs wokeup
– 0800 hrs had breakfast of Paratha, egg and tea in Skardu
– 0845 hrs left from hotel
– On the way stopped at Bike brake setting workshop and pictures stop at yellow trees
– 1000 hrs reached Shangrila resort, also known as Lower Kachura lake (which is artificial lake)
– 1100 hrs reached Upper kachura lake
– 1300 hrs left from Upper kachura lake
– 1330 hrs reached SOQ VALLEY (3km from Kachura Lake)
– Had tea with XOOQ RESTAURANT AND HOTEL Ali Ahmad
– SOQ VALLEY has a good camping facility and food availabilty including trout fish however no mobile signals are there.
– 1500 hrs left from SOQ VALLEY
– 450 Rs petrol at Skardu 4.3lit at 1630 hrs
– 120 Rs chicken burger – Tandoori cafe at 1645 hrs
– 1715 hrs reached Hilton hotel
– 2100 hrs slept
ROUTE MAP:

DAY-10: 10-OCT-2020 | LEFT FROM SKARDU > JAGLOT > NARAN
– 0330 hrs wokeup
– Bags packed and tide on bike
– 0430 hrs left from Hilton hotel skardu towards KKH- Gilgit road
NOTE: This road was under construction and almost 50% have carpet road and 50% is still under construction. Govt is hopeful to complete the road by the end of 2021
– 1130 hrs reached Jaglot
– 410 Rs petrol 3.95lit
– 150 Rs Kabuli pulao n coke at Jaglot
– 1245 hrs left from Jaglot
ROUTE MAP:

– 1315 hrs crossed Nanga parbat view point
– 1340 hrs crossed Raikot bridge
– 1500 hrs reached CHILLAS ZERO POINT and had a Namaz break
– 1530 hrs left from CHILLAS
– 1715 hrs reached Babusar top
– 50 Rs had boil egg at Babusar Top
– 1915 hrs reached Naran bazar
– 170 Rs chappal kabab dinner
– 500rs night stay in Naran
– 2130 hrs slept
DAY-11: 11-OCT-2020 | NARAN > MUZAFFARABAD > MURREE > ISLAMABAD
– 0530 hrs wokeup
– 0630 hrs left from Naran
– 0845 hrs reached Kiwai
– 160 rs nashta at kiwai
– 0900 hrs left Balakot
– 0945 hrs reached Balakot
– 700 rs Petrol at balakot and 15min break
– 1000 hrs left from balakot
– From Balakot instead of going straight from Abbotabad, I took another scenic root via Muzafarabad and Murree
– 1140 hrs crossed Muzafarabad rope Neelum bridge
– 1250 hrs crossed KOHALA BRIDGE
– 1400 hrs reached Murree express way
– 1630 hrs reached Faizabad
– 1715 hrs reached at relatives home
ROUTE MAP:

DAY-12: 12-OCT-2020 | REST IN ISLAMABAD
Had a full day rest and editing of videos in Islamabad
DAY-13: 13-OCT-2020 | ISLAMABAD TO LAHORE
– 0400 hrs wokeup and had breakfast
– 0515 left from Pindi
– 410 rs petrol full 3.93lit at chaklala 0520hrs
– 0615 hrs crossed Gujar Khan and suddenly my bike got switched off
– 0700 hrs took bike at Gujjar khan Bus adda and called an electrician who came at 0740am
– 900 rs new battery charger
– 250 rs electrician fee
– 0900 hrs left from Gujar khan
– 1020 Hrs reached DINA and entered into ROHTAS FORT
– 1040 hrs reached Rohtas Fort (10km from highway)
– 1145 hrs left from Rohtas Fort
– 1315 hrs stopped at MCDONALDS Wazirabad Chinab river
– 1350 hrs left from mcdonalds wazirabad
– 1600 hrs reached Lahore Azadi chowk
– 300rs new meter wire replaced at suzuki workshop
– 850 rs petrol at 1750 hrs 7.2liter
– 1800 hrs reached home
– 700 rs Bike oil replacement